About the Expedition
The Joint Mongolian-Russian-American Archaeological Expeditions were organized in 1995 in response to the need for a better coordinated approach to understanding the Pleistocene prehistory of Mongolia and immediately adjacent territories (especially southern Siberia). Over the years, the range of participating international scholars has broadened to include colleagues from China, Japan, Canada, and Kyrgyzstan and the Expeditions' geographical focus has similarly expanded to incorporate the broad territory known as Central and Inner Asia*.

Initially concentrating its work in the Gobi Desert of southern Mongolia, JMRAAE's field activities now include ongoing archaeological excavations in the Selenge Valley of north-central Mongolia and reconnaissance and survey work in Xinjiang, Qinghai, Tibet, and southern Siberia.

In 2000, JMRAAE became formally linked with UCLA's Tibet Paleolithic Project (http://paleo.sscnet.ucla.edu), creating a coordinated interdisciplinary investigative team dedicated to understanding high, arid Central and Inner Asia's earliest prehistory. Since 2004, JMRAAE has comprised the active fieldwork arm of the University of Arizona's Je Tsongkhapa Endowment for Central and Inner Asian Archaeology.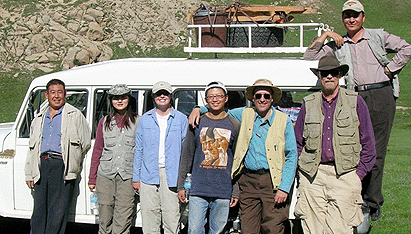 * 'Central and Inner Asia' includes ethnic Mongolia (Mongol Uls and traditionally Mongolian regions of the People's Republic of China and the Russian Federation); ethnic Tibet (traditionally Tibetan regions of the People's Republic of China, India, Kashmir, Ladakh, Nepal, Bhutan, and Sikkim); ethnically Turkic regions of the People's Republic of China; Siberia and the Russian Far East; Türkmenistan; Uzbekistan; Tajikistan; Kyrgyzstan; Kazakhstan; Afghanistan; and the greater Himalayan region.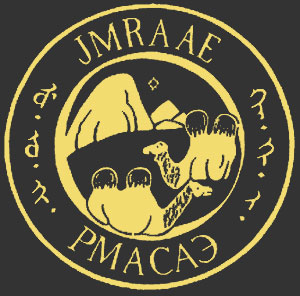 About the JMRAAE Logo
The logo of the Joint Mongolian-Russian-American Archaeological Expedition (Mongolian: Moнгол-Орос-Америкийкн Археологийн Хамтарсан Экспедици*; Russian Российско-Moнгольско-Американская Совместная Археологическая Экспедиция **) is based on the official seal of Bayan Lig suum (district) in Bayan Hongor aimag (province) where the Expedition's base camp was located from 1995 to 2000. JMRAAE's logo depicts two Bactrian camels with the region's most prominent topographic feature, a volcanic plug called Xatan Suudal (the Queen's Saddle), in the background with Jupiter ascendant.

* Pronounced: Mongol-Oros-Amerikiin Arkheologiin Xamtarsan Ekspeditisii
** Pronounced: Rossisko-Mongol'sko-Amerikanskaya Sovmestnaya Arkheologicheskaya Ekspeditsiya




In Memoriam

Pyotr Petrovich Labetskii, 1945-2001

Valery Trafimovich Petrin, 1943-2002

Anatoly Nikolaiovich Zenin , 1962-2010